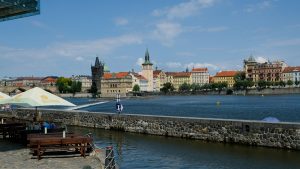 What to do in Prague? Prague is one of the most favorite places to visit by millions of tourists from all around the world. Are you considering, to go there too? But what to do during your trip? There are several options to choose from. Let´s have a brief look at some most popular.
What to do in Prague: Sightseeing
The capital of Czech Republic is famous by fantastic historical monuments from different eras of history. Especially in historical centre of the city. But it is not only about history, there are also some modern buildings to admire. If you decide to visit Prague and see something, we have some hints for you.
Old Town Square, called Staroměstské náměstí in Czech language, is one of the most iconic places in Prague, and it´s one of the places with most historical value. Since the 12th century the square has not come through larger changes. Often you can find here some markets (for example in Christmas or Easter time) and during all year you can find wonderful Astronomical Clock (called Orloj in Czech), more than 600 years old clock which comes with a special show every hour.
Charles bridge is a historical bridge from 14th century which lives during the day and maybe even more during the night. Original stone bridge came through many reconstructions, especially in last few years. Just be aware of pickpockets and enjoy the unique atmosphere.
Prague Castle is one of the largest inhabited castles in Europe as it is official seat of Czech president. Phenomenal historical complex was established somewhere in 12th century and was traditional seat of Czech kings. Saint Vitus Cathedral in the complex is also storage place for Czech crown jewels.
What to do in Prague: Gastronomy
Although everybody usually admires Italian or French cuisine, Czech cuisine also offers some great things to try. Traditional Czech foods are similar to German cuisine, because of historical connection between Czech and German culture. It usually uses lot of pork meat. But the main point of gastronomy in Prague is beer, because Czech Republic is country of beer. Go and try to find a place to taste Pilsner Urquell, probably the most famous Czech beer, or go and find some local brewery – these are one of the biggest trends of last few years.
What to do in Prague: Theatres and museums
Want to spend some time inside and feel some culture? Prague is full of opportunities and it would not cost you that much. Czech prices, compared to prices in other European capitals, are quite low and won´t ruin your budget. Prague National Theatre is probably the best in the country, but if you don´t know Czech language, you won´t understand. But don´t worry, there also alternate shows like ballet or opera.
Stay in Prague only?
As Czech Republic is not that big country, travelling across the republic and visiting other places is not a problem. Have you ever heard of Kutna Hora or Český Krumlov? These are only two of many exciting cities loved by Czech and foreign tourists.