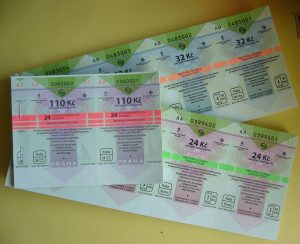 We will now tell you some useful things about public transport Prague. Are you about to visit Prague but you don´t have your own car or don´t want to spend big money on car rental? Never mind, because Prague has one of the best developed systems of public transport in Europe.
Public transport Prague
The main axle of public transport in Prague is system of underground (metro) trains. It consists of three different lines and covers both, Centre and external parts of Prague. Every one of the three lines is marked by different color which makes orientation easier for you. This is the fastest way to move through Prague. Unfortunately, there is still no underground connection with Prague airport, but never mind, you can still reach it by bus.
If you need to get to places that are not in range of metro, you can use a tram or bus. Trams has 24-day lines and 9-night lines. Bus lines are divided to city lines, suburban lines extra-urban lines.
Safest way to travel?
Well, this question does not have clear answer, because nobody can guarantee 100% safety in public transport. Pocket pickers are everywhere around the world. However, especially metro is quite safe thanks to CCTV system with immediate live surveillance. Both state and metropolitan police make regular patrols in metro stations.
Public transport is the cheapest way to travel around Prague and you can get to almost any place in the capital city of Czech Republic.
Public transport tickets
Tickets to Prague public transport are available literally on every corner. Near the stations of public transport there are usually ticket machines. The newer ones also accept contactless credit cards. If you don´t have change or there is no machine accepting cards, you can buy a ticket in almost any tobacco store, information Centre or such a place.
Basic ticket for adult costs CZK 32 and it´s valid for 90 minutes since it´s been marked. Short time ticket for adult costs CZK 24 and it´s valid for 30 minutes. There is also one-day ticket that costs CZK 110 for adult. It means that you can get 24-hour ticket for less than 4€. Three-day ticket (valid for 72 hours since marking) costs CZK 310. Children and seniors pays half price for all the tickets, while children in age of 6 or younger and seniors in age 70 or above pays nothing for Prague public transport.
Validity of the tickets
In some other cities, it´s common that you just buy your ticket and take your route. In Prague, you must mark your ticket in a special machine before you get in. The machine (small yellow box) will mark the time until the ticket is valid. Unmarked ticket is not valid and public transport inspectors in Prague are quite strict – don´t try your luck and don´t forget to mark your ticket.
There is also possibility to buy your ticket via a mobile phone. However, to do this you must have Czech SIM card with Czech number. Foreign numbers are not supported. But it´s still worth of buying basic Czech number for about CZK 100 in some tobacco store. How to buy your ticket via phone is described on every corner. Always remember that if you did not receive SMS with number of your ticket, it´s considered like you have no ticket.