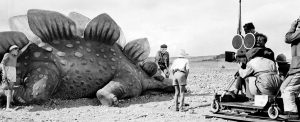 Karel Zeman was a great Czech film maker, animator and pioneer to the movie tricks and animation. His influence on the nowadays film makers is still evident and he stays the pioneers of Czech trick films.
Visitors can even try tricks on their own in Karel Zeman Muzeum by Charles Bridge
Depiction of prehistoric life
This film was documenting that showed extinct animals which moved naturally in the environments that used to be. Journey to the Beginning of Time also depicted prehistoric life which was both entertaining and also educational.
About World of Movies Karel Zeman
Karel Zeman was a Czech director, artist, production designer or animator who is well-known for his depicting fantasy films combining live action with animation. For this reason he is often renamed the Czech Melies.
The Order of the Republic
He was awarded the title of National Artist in 1970. He also experimented with classical forms of animation (in Sinbad the Sailor). On his seventieth birthday he was awarded by the Order of the Republic by the president Gustáv Husák. He died in Gottwaldov on April 5, 1989, just a few months before the Velvet Revolution.
Prague museum – dedication to the unique person of the Czech movie
You can understand the tricks that made the Czech cinematography famous and you are given chance how to get involved into the concept. Visitors can even try tricks on their own. He focused on "terra incognita" in the Czech film. He wanted to taste the world that exists only in the fairy tales. His world of fantasy covers flying machines, walking around the Moon like Baron Munchausen, or you can even take control of a world-famous submarine from The Fabulous World of Jules Verne. His inspiration by this French writer is the source of inspiration for Karel Zeman and his work and filmography.
Karel Zeman museum website HERE
Karel Zeman movie document