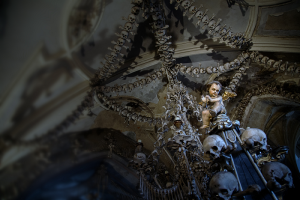 The town Kutna Hora is located about 70 kilometres east from the capital of the Czech Republic – Prague above the brook Vrchlice. The town offer unique medieval or Baroque architecture and also a great number of archeological findings. The cross is as the reminder of human life
There remains the room that is shaped in a cross to walk around it. One point of the cross is taken by the staircase which leads down from the street and there is also a little altar that is located on the opposite arm. In the middle of the ceiling there is the chandelier which is touted as the highlight of the ossuary as it consists of at least one of every single bone in the human body.
READ HERE – What to do in Kutna hora
The reason why to construct the chapel
The legends say that a mad monk made the chapel from the human bones. However, there are stories about blind monks who began piling the human bones to their today's shapes. František Rint was a woodcarver who made decorations and sculptures in here to remind the impermanence of human life.
Candelabra, chalices, coats of arms
There is the chandelier and strings of skulls that are hanging from the ceiling and skull candelabra showing the skull that was wounded by different weapons.
When to go there
The Bone church Kutna hora is open the whole week during the year except for 24th and 25th of December and there is also the explanatory text in different languages that can be borrowed at the cashier's desk. Then fee is 40 Czech crown for adults and twenty Czech crowns for children. And the atmosphere and the credo of the chapel will make you think for a long time.