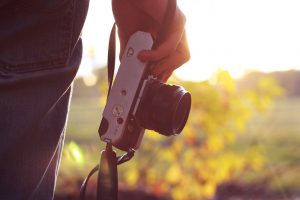 Prague has a lot to offer for any type of photographer. Whether you like street photography, landscape even portraits or maybe you would like to be a person posing in front of the camera with the charming Prague´s landscape in the background.
Join our Prague Photo Tour and let us guide you on a three and a half hour photo tour that will teach you photography skills and encourage your creativity and photographic development in the charming "City of a hundred spires". Prague is one of the top visited Europe cities and it really is scattered with tower peaks in every direction. Charming narrow streets of the Old town or some hidden gems away from crowds are waiting for you and your camera to discover them.
Photography tours are designed for any skill level. Whether you are a beginner or a serious advanced amateur, our guide provides photography instruction and advice tailored to your level. During 3,5 hours we will visit the best places for photography in Prague. As the light is the best during sunrise and sunset, we offer either a morning or evening tour.
Morning tour starts before sunrise, this tour is perfect for people who do not mind getting up early. Prague is even more beautiful at this time, with almost no tourists you can feel the atmosphere of the city getting up to a new day.
Evening tour starts in the afternoon before sunset, we will visit hidden gems of Prague but also take pictures of the famous tourist attractions but from a different perspective. Golden hour in Prague is amazing. After the sunset, we will wait for a blue hour and also take some long exposure pictures.
Prague portrait session
Take home not only memories but also beautiful pictures of your time in Prague. Honeymoons, engagements, a weekend with your loved one, family or friends. Our photographer will take you to the best spots in Prague to get the most authentic pictures from your holidays.
For more info: http://martinbisof.com/photography-tour-in-prague/