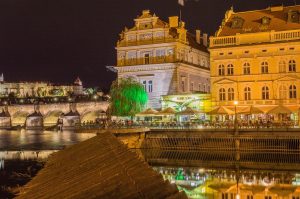 If you are thinking about visiting this charming city, you should know some tips and tricks about Prague.Prague is the capital of the Czech Republic and at the same time it belongs to the fifth most-sought after city in the whole Europe. So to give example, it is more visited than Amsterdam, Barcelona or even Milan.
About Prague and Castles
When you are in the Czech Republic, you should see at least two epic castle. There are more than forty of them in Prague. One of the most famous is definitely the Prague Castle which attracts tourist to be the seat of the president and welcomes you in order you can trace the history of Prague. It´s not all about Prague only. Another option is Karlstejn Castle which is not as crowded as the Prague Castle.
Shopping
You do not have to worry about shopping places and time as you can go shopping every day to 9 pm or 10 at many of them. One of them which worth visiting is Palladium which is full of people, mostly when there are holidays. During December you can experience a charming Christmas market with Christmas souvenirs or original Czech craft which comes in handy as a special gift from the city of Prague.
Nightlife
Prague nighlife starts later at night and you can stay in Bombay Bar & Club or Nova Lisboa Music Club can stay in at least until 3 am or even till 5 am at the weekend. There is wonder that Prague is the city which never sleeps. Dlouha street close from the Old Town Square is cool Club and bar street for nightlife about Prague
Transportation
You need to buy a transportation ticket immediately after getting to Prague. The single-day ticket will enable you to use the whole public transport which covers buses, trams, metros and even funicular which takes you comfortably to the Petřín Lookout Tower from which you can have a wonderful view of the whole city. But there should be said that Prague has a lot of to offer so the tourists should pack a comfortable trainers or shoes in order they would be able to walk on the cobblestone and also steep hills of the capital of the Czech Republic.
Safety
The Czech Republic stands for one of the most safety country and thus is Prague so there is no wonder to walk a man or a woman alone in the deep night. However, every advantage bears its disadvantage – so there is good to know that one can come across a pickpocket while riding the public transportation. And the other useful tip for you is not calling the taxi in Prague until you can surely see the name of its company and a phone number on it. These two signs are great evidence of  credibility of the company.