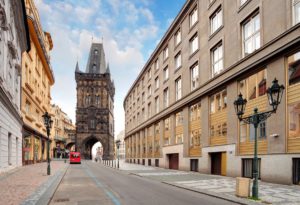 When in Prague you must see several imposing monuments in Prague. Which ones – there are Prague Castle, Charles Bridge, or the Old Town Square.
Things to see in Prague – the Prague Castle
The Prague Castle was built in the 9th century and stands for the official residence of Czech kings and presidents. There are also located the Bohemian Crown Jewels inside a hidden room. Its area of 70 000 square meters makes it the largest castle in the whole world except for Malbork Castle.
History
It used to be the Church of the Virgin Mary in 870 and the Basilica of Saint George and the Basilica of St. Vitus were founded during the reign of Vratislav in the 10th century. In 1918 the castle was the seat of the president of the Czechoslovak Republic and St Vitus Cathedral was finished.
You must see – the Old Town Square
The square is a historic quarter of the city and it is situated between Wenceslas Square and Charles Bridge. There are the Gothic Church of Our Lady before Tyn (the main church of the square), Prague Orloj (a medieval clock on the Old Town Hall), the Baroque St Nicholas Church (offers a panoramic view of Old Town).
Things you must see – Charles Bridge
The bridge crosses the Vltava River and it is named after the King Charles IV (the founder) as the olf Judith Bridge was badly damaged by floods in 1342. Charles Bridge is a connection between the Prague Castle and Old Town. There are thirty mostly Baroque statues that are situated on the balustrade forms. They are different saints or patron saints made by Matthias Braun, Jan Brokoff, and his sons. The statues were damaged during centuries so we can admire only replicas nowadays.