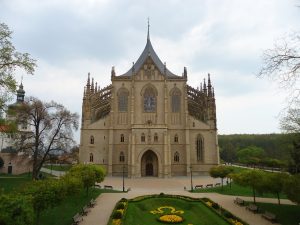 There are many possibilities where to go from the capital of the Czech Republic for one day trip from Prague. However, there are a few destinations which you should not miss. One can arrange their tour for example to Kutna Hora or to Cesky Krumlov.
One day trip from Prague to Kutna Hora
One day trip to Kutna Hora will enable the visitor to get to know the UNESCO World Heritage town with the Bone Church. There is an ossuary made up of impressive chandeliers and other decorations. It represent the peaceful and pensive place which make you think about the most important things in your life.
How to get there
The town of Kutna Hora is approximately 60 minutes far from Prague. The best way how to get there is definitely by train. You will depart from the main station in Prague and thanks to the direct train you will get easily to Kutna Hora. It is better to check the train schedule as the return train is not so frequent. The way from Prague to Kutna Hora will take about one hour.
On day trip from Prague to Cesky Krumlov
The other interesting tip for a one day trip from Prague is definitely trip to Cesky Krumlov which is often nicknamed mini Prague. The town lies in south Bohemia and belongs to UNESCO World Heritage site as well. Cesky Krumlov is represents an epic medieval place which is not far than a few hours southern from the capital of the Czech Republic. You can do it on your own and stay overnight in here. When you visit the town in the hot month you should float down the charming river while watching the marvelous castle. However, when you are in the town of Cesky Krumlov later, you can enjoy your time in a traditional pub.