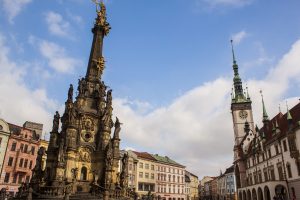 Olomouc is a city situated in Moravia on the Morava River. As it stands for a very old city, it carries the inspiration for the visitors, be it a gorgeous bubbling fountain or Olomouc Castle.
Olomouc Castle
There a many castles in the Czech Republic and one of them is definitely Olomouc Castle where the Czech King Wenceslaus III was killed in 1306. During the centuries the castle underwent a lot of changes so many building which formed the castle in the past are separate now, for example the Bishop´s Palace or St. Wenceslaus Cathedral.
Enjoy yourself the Technical Museum Olomouc – Even though the name is the Technical Museum, you can find trains in here – be it diesel, steam or electric engines.
Visit the Town Hall tower and take a picture of the Astronomical Clock – The Town Hall is situated in the main square and is opened for visitors (one can admire inner courtyard, the ceremonial hall, or the Chapel of St. Jerome). And you can snap a picture of the Astronomical Clock which is on the façade of the Town Hall being decorated by mosaics of working class and royalty too.
Visit the mausoleum of Yugoslavian soldiers – The mausoleum is being under reconstruction just now, however, you can see its exterior and get to know some facts about its history.
Admire the Olomouc Fortress – Visitors can find a lot of ruins, fornications and old gates of the ancient city, for example the Olomouc Fortress.
Trinity Column – This column is on a UNESCO World Heritage Site and it is located on the main square. The column comes from the 18th century and you can admire the Holy Trinity and other sculptures on it.
Saint Wenceslaus Cathedral Olomouc
The Cathedral was built in 1107 and thus belongs to the oldest cathedrals in the Czech Republic. Having 100-meter-tall tower, it is the fourth tallest one in the Czech Republic.
Kasperle's Land. The name stands for a century old puppet theater of classic fairy tales.
Baroque fountains – There are six Baroque fountain in Olomouc and the most spacious is the Caesar Fountain which is situated in front of the Town Hall.
Regional Museum – The museum comes from the 19th century and offers the history and even prehistory of the Olomouc area. You can look forward to the antique books, geological artifacts, or audiovisual exhibits.
Bezruč Park – You can walk through several parks in the city and one of them is Bezruč Park. It is a home of a lot of sights so one can have a rest in here. Visitors can see the Botanical Garden which is famous for its Rosarium with over 10,000 rose bushes.