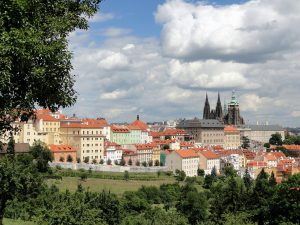 The weather conditions in the capital of the Czech Republic correspond to the overview which is mentioned in the next paragraphs. But the most important for weather in Prague is that it has the temperate climate with variations throughout the seasons of a year.
In the winter Prague has its own magic and weather in Prague.
Winter weather in Prague
In the winter Prague has its own magic and weather in Prague. The snow usually covers the surface but it melts after a time so it does not usually last a long time. However, the weather conditions are really unpredictable so you can sometimes encounter snow storms but it must be said that they are not very common.
The colourful part of a year is the spring season. This season is maybe one of the best times for visitors, especially the fifth month of a year – May. All the nature wakes up after months of hibernation. The pleasant atmosphere when the nature comes back to live can be seen everywhere.
Summer Weather in Prague
Summer months are really popular among the visitors of Prague. The weather is generally warm, however, the heat waves are overwhelming and people with respiratory problems may have some trouble. In addition, the rain showers are more often seen than in any other time of a year.
When there is the fall season, you have to get dressed warmer and because it is often windy, you have to take this fact into account. On the other hand, there are also beautiful sunshine days when you can go for a long walk.
Weather in Prague for your tour: In general, the best chance of nice weather is in late spring and early fall, for example in the second half of May and the months of June and September. The weather is often really agreeable, with temperatures in the 20s°C/70s°F, sunny sky, and mild evenings. If you like hot weather, you should visit Prague in July and August, which are Prague's warmest months and at the same time the driest ones. You may want to consider the daylight hours, which are long in the late spring and in the summer (it stays light till 9 p.m. in May, and till 10 p.m. in July) and shorter ones are in the fall (around 8 p.m. in September)