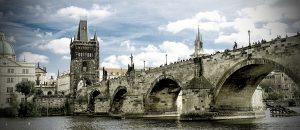 Prague is a bucket list item for a lot of international travellers. It is no surprise as it has an unwavering position on the list of top 10 world destinations to visit. And masses of tourists walking daily over Charles Bridge and Old Town Square are the proof as well. But what are the reasons why you should visiting Prague and what is actually Prague known for?

History at every step
Clearly, it is the history and architecture that impress most of the tourists.
Romanesque, Gothic, Baroque, Renaissance and Art Nouveau buildings are literally everywhere you look and it's fascinating how a modern metropolis, which Prague definitely is, makes you feel like you traveled in time and find yourself in a medieval age.
Prague Castle, Old Town Square, Lesser Town and Jewish Quarter are spots you certainly don't want to miss. And even if you decide not to follow the main tourist's routes and wander in picturesque streets instead, you will soak up the atmosphere of the city.
Prague has a unique collection of historical monuments that you can sure read about in every tourist guide.
Visiting Prague – City of myths and legends
Did you know that the Old Town Square and especially Tyn Church were Walt Disney's inspiration for the Cinderella castle?
Czechs actually love all kinds of fairy tales and legends and the rich history full of battles, murders and executions are what Prague is known for. Every historical building, church or statue in the city center has its own ghost story.
One of the city's most famous legend is the one about Prague Golem, famous Jewish story associated with Rabbi Loew who was the chief rabbi of the Jewish community at the end of 16th century. An artificial man made of clay with a stone heart was created to protect the Jews but ends up threatening innocent lives.
Some of the legends are based on true stories, some of them are just pure entertainment.
Ghost walks and walking tours will not only entertain you in a nighttime but might even give you goosebumps.
But spooky stories are one of the few things to be scared of in Prague. The city is very safe and has a low crime rate compared to other cities in Europe.
However, pickpocketing can be an issue so always beware while visiting the most crowded tourist sights and using public transport.
Visiting Prague – A taste of Prague
Czech cuisine tends to be quite heavy and fatty because of the amount of meat and creamy sauces it contains. But you will certainly find a dish you'll love. Just leave your diet at home and worry about your waist later! If you want to taste some traditional meals, look for Vepřo-knedlo-zelo or Svíčková in the menu list. Unless you're full after the main course, which is quite unlikely, try some of the Czech desserts such as apple strudel, yeast dough pastry and cookies or Czech version of pancakes that are similar to French crêpes.
Not mentioning the famous Czech beer would be a crime! The beer has a long history in the Czech Republic. In the Břevnov monastery and brewery in Prague, it has been brewed since the 13th century. Not only the quality of the beer is high, but also the price is really cheap. Until the change of law in 2015, you could easily find beer being cheaper than water in pubs.
Numerous souvenir shops scattered all around the city center attract tourist to buy the stereotypical souvenirs but don't be fooled. Stacking matryoshka doll and faux fur hat is unfortunately another thing that Prague is known for. But even they are commonly presented as typical Czech, none of them actually is.
Better try to look for hand-carved marionettes, certified authentic Czech garnet jewelry or bohemian crystal. Even with a smaller budget, you can still bring a piece of Czech home. Becherovka herbal liqueur or a box of spa wafer cookies will sure do the trick.