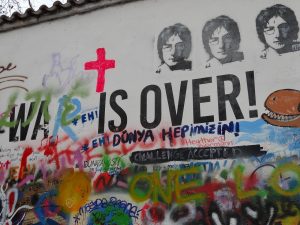 John Lennon Wall Prague or Lennon Wall is a wall that is located in Prague – the capital of the Czech Republic. It used to be an ordinary wall, however, in the 1980s it was filled with John Lennon like graffiti or pieces of lyrics from the song of the group the Beatles.
The source of angry for the communism – This wall became the source of angry for the communism and its president Gustav Husák. Many young people from Czechoslovakia wrote their grievances on this wall and talked about their times and a clash between hundreds of students with the security police on the nearby Charles Bridge.
John Lennon Wall Prague – Lennonism movement
The movement that followed was named as Lennonism and for the communist power the people who followed them were alcoholics, or sociopathic, agents of Western capitalism and last but not least mentally deranged.
The John Lennon wall Prague has changed during decades
The wall itself changed a lot and the original portrait of John Lennon is hidden under a lot of layers of new paint. Even though local authorities repainted the wall, the wall was again full of poems and symbols next day. The Lennon wall stands for the symbol of love and peace.
Where to find John Lennon Wall Prague
This is the property of the Knights of Malta and this can be found at Velkopřevorské náměstní at Malá Strana. This is a great example how such an ordinary thing can be used.
Influence of the Lennon's wall and its legacy
Some similar wall appeared on the walls of the Hong Kong Central Government Offices where people who live in here place here colourful post-it notes that ask for democracy in Hong Kong which were mainly be seen during the riots in 2014.