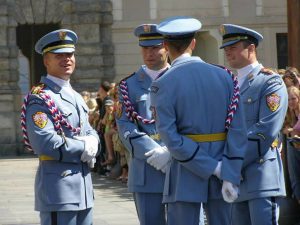 Are you already tired of traditional tourist program with strict schedule and no possibility to enjoy something on your own with Untraditional tourism style? Prague is not only about going sightseeing with group of other tourists. Below we bring you some of the most interesting things you may do in Prague without anybody´s help.
Don´t miss the others for the large ones
First of all, we will start with sightseeing, but from an opposite look for Untraditional tourism in Prague. We all know the most known tourist goals in Prague, but it´s not only about Prague castle or Charles bridge. Why don´t you take a trip to Vyšehrad Castle with Bike or eBike rentals Prague, which is accessible by underground train, and which was there even before base stone of Prague castle was laid? You shouldn´t also forget about Jewish town, which is one of the most historical neighborhoods in Prague with many old buildings to admire. Those less known sights are also less occupied by other tourists, so you will enjoy calm afternoon or evening there or in fron of the John Lennon Wall Prague.
Untraditional tourism: Explore Czech dining culture
Everybody knows international fastfoods which are everywhere around, and Czech cuisine sometimes stay a little bit overlooked. But you should give it a chance, despite it is kind a heavy – full of pork meat, dumplings and so on. But don´t rely only on big restaurants. Why don´t you try to find some local one where you can also enjoy some typical atmosphere of Czech restaurant. Don´t forget about beer. As you may know, Czech beer is considered to be one of the best in the world and brands like Pilsner Urquell or Budweiser Budvar are widely recognized in the entire world. Want to taste some liquor too? Traditional Czech drinks are easy to be bought almost anywhere in Prague.
Make the Prague Castle guards smile
If you didn´t resist and visited Prague castle, try to take this part of your time in Prague little bit experimentally and definitely more funny. Prague castle as an official seat of Czech president is secured by castle guards. In fact, their role there is more or less just representative, but even though you should rather never touch them or stay too close – they would see you as a threat. Those guys still take their job seriously. But their faces are definitely not from stone. Will you make it and force them to laugh by some crazy activity?
Take a boat trip on Vltava river
Who is still interested in walking anyway? Untraditional tourism with Boat trips are nothing new in Prague, but we guarantee that it will give you a brand new look on the city, especially during sunset, when the silhouette of the city is covered by a gold-shining sun. Do you still think that this is nothing special, because everybody already experienced a boat trip? Then go and take a Segway trip around the city, some Segway rentals Prague are everywhere around.