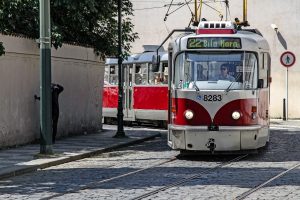 When you come to Prague for the first time, one of the things you would probably be interested in is how the public transport works, which one is used the most and what kind of ticket you should buy. One of the best public transportation systems in Europe is in Prague. Here are some basic information about the types of transport you can use, the tickets and which advantages it has.
METRO
Metro is the core of public transport network in Prague and operates daily from 5 to 24 hours. It has three lines – line A (green; Depo Hostivař-Dejvická), line B (yellow; Černý most-Zličín) and line C (red; Letňany-Háje).Transfer stations: Muzeum (line A and C), Můstek (line A and B), Florenc (line B and C).
BUS AND TRAM
While the bus provides transport mainly at the outskirts of the city, tram provides transport primarily in the center. Both the bus and the tram operate from 4:30 to 0:15, on Friday and Saturday from 4:30 to 1:30 – day lines. The night lines are different and go each 30 minutes – as for the bus, it operates from 0:30 to 4:30, on Friday and Saturday from 1:30 to 4:30; the night trams start operation shortly after midnight and end at the same time as the bus. The numbers of night lines start with 5 (bus – numbers 501-515, tram – numbers 51-59).
CABIN CAR
Special type of transport is a cabin car to Petřín. It´s open daily, from April to October 9:00 – 23:30, from November to March 9:00 – 23:20.
TICKETS
There are three types of tickets you can choose between. Normal ticket, sms ticket or prepaid opencard. The normal ticket is the best choice for tourists, but remember – you have to mark the ticket in the marking device in the tram or the bus or before you enter metro loading space – the ticket won´t be valid otherwise! You can get those tickets in the metro station entrances (big yellow machines), at some tram or bus stations (yellow machines as well), newsagents and tobacconists, information centers, travel agencies, hotels, shopping malls etc.
FARES:
Basic ticket (90 minutes) – 32 CZK
Short-term ticket (30 minutes) – 24 CZK
One-day ticket (24 hours) – 110 CZK
Three-day ticket (72 hours) – 310 CZK
Discounts:
–          for children (6 – 15 years old) and seniors (60 – 70 years old): basic – 16 CZK, short-term – 12 CZK, one-day – 55 CZK; three-day has no discount
è when you´re 10 – 15-year-old child, you have to prove your age with some kind of verified pass! (transport pass etc.), where is your name, surname, date of birth and photo
The one and three-day ticket is valid from the moment of their marking and can be bought at the Information centers of the Prague Public Transport Company.
All those tickets are valid for metro, bus, tram and cabin car.
You have to pay 16 CZK for an empty pram, luggage or dog without a protective box.
FREE-OF-CHARGE TRANSPORT:
Children up to 10 and seniors over 70 years of age (both ages must be proved), disabled people (holders of ZTP and ZTP-P card, only citizens of the Czech Republic), animals in protective boxes, prams with babies, luggage (sized up to 25 x 45 x 70 cm), snowboard or ski in packaging, bicycles.
INSPECTION
Ticket inspectors are entitled to require the passenger to show him his or her valid and marked ticket at any time of ride. In case you travel without a valid ticket, you can be fined (800 CZK if you pay immediately, otherwise 1000 CZK). They can collect a penalty 200 CZK for unpaid freight (100 CZK if you pay at once) as well. The inspectors prove their identity with yellow-and-red badges and provide receipts for the penalties.
If you´re staying longer, it´s advantageous to buy the one or three-day ticket as you spare a lot of money. Otherwise you would have to pay for every 30 or 90 minutes any time you would want to go somewhere – if you count it right, you´ll see the difference between those prices. For shorter distances that take less than 30 minutes remember to buy the short-term ticket – it´s another way how to spare some of your valuable money.