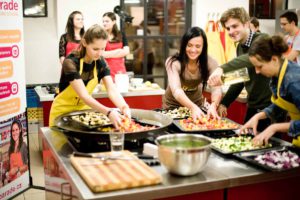 Check the Czech cuisine! Learn how to cook traditional Czech meals in a fun & interactive way at Chefparade, the largest cooking school in the Czech republic. Prepare a 3-course menu of Czech favorites like 'bramboráky' (potato pancakes) and 'jablečný závin' (apple strudel), with hands-on instruction. Finish by digging into your homemade feast with your fellow cooks.
Market tour with traditional Czech meals
Participate in a market tour, guided by our chef and take in the atmosphere of shopping for fresh local products, find out interesting facts about Czech cuisine and stop for several tastings.
Wine pairing for traditional Czech meals
Do you want to experience more? Wine pairing will do the trick! Enhance the dining experience with finest Czech wines and traditional Czech meals! You will taste 2/3 carefully selected wines to match exactly your menu choice.
Our chefs speak Czech, English, Italian, French, Arabic, German and Russian.
More than 100 satisfied tourists wrote great reviews at Triadvisor. We are #2 of 44 Classes & Workshops in Prague not for traditional Czech meals only.
Why us?
"Over 90,000 people have attended our cooking classes."
"We have held more than 15,000 cooking classes, company teambuilding events, outdoor events, private and birthday parties."
"Our team of 20 top chefs have over 200 years of combined experience and hail from both the Czech Republic and abroad."
How: To arrange your class – let us know at least 24 hours in advance, please!
E-mail us: Sabina@chefparade.cz
Call us: +420 733 738 521
Website: https://www.chefparade.cz/en/
When: Mon-Sat
Where: Bubenské nábřeží 306/13, hall no. 36, Prague 7, 170 00