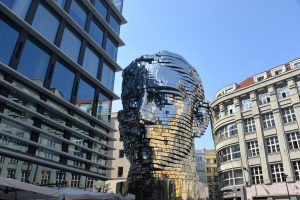 Franz Kafka was one of the most significant authors of the 20th century and he was strongly connected to Prague where he lived and wrote some of his most known books. Kafka used to say that Prague is the city that will hold you and won´t let you go once you live there and we must admit that he was right. Prague of nowadays is full of things which associates this famous writer. Let´s see some of them. If you are a fan of Kafka, you should make a trip to Prague.
Franz Kafka Museum
Could you imagine better place to start than Kafka museum? This place is full of artefacts connected to Kafka and seeing them will help you to understand Kafka better. The museum is located near famous Charles bridge and it comes with even the less known materials like original manuscripts or personal letters. Kafka museum is a modern institution that will bring you through his life with help of modern technologies.
Forget about original buildings
Unfortunately, nowadays there is no original building connected to Kafka, as most of them were demolished during the years. House of his parents where he was born was demolished and house where he wrote was so and today you may find a hotel in this place. However, some of the buildings in current Prague still has some little connection. For example, the building with Cafe Louvre, although it came through reconstruction, was writer´s favorite place where he spent tons of his time.
Sculptures and Kafka monuments
Building the monuments is one of the most common way to praise somebody. Kafka also has his monuments in Prague. The most significant ones were made by sculptor David Černý. One of them can be found right next to the Kafka museum, the second one in Nové Město is very original – it contains 11 meters tall sculpture of that with moveable elements that circles around and once in time it creates an image of Kafka´s face.
Who was Franz Kafka?
Kafka was born in 1883 in Prague and he was of Jewish origins. His original manuscripts were always written in German language however, he is popular all around the world. Kafka was a very intelligent man as he was able, to finish studium of law and worked in insurance company later. He has died in relatively early age of 40 years because of TBC. Although he was originally German, Kafka was able, to speak Czech and French fluently. He used to say that he was German, but he never felt like that. His attitude to women was so complicated that he never made it to marry or to have children.