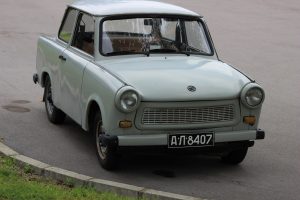 Let us introduce you to another fun form of sightseeing in Prague which is done in vintage Trabant Cars 601. Trabant is an Eastern German car from the late 70s produced during the Soviet Union. They are very rare these days because they production ended in 1991. These unique 2-stroke vehicles are made of fibreglass and have shifted under the steering wheel. You feel like a celebrity when you drove around Prague in one of them because everyone wants to take a picture.
Prague its self-has old narrow winding streets, very confusing infrastructure for driving, therefore, our tour concept is carefully designed to take you to the off the beaten tracks and places where tourists normally do not go.
We first start with Strahov Stadion the former largest stadion in the world from 1929, then Strahov Monastic Brewery with a great viewpoint on the whole city, in addition to that is possible to organize brewery tour and beer tasting and some snacks. Other points of sightseeing are statues of David Cerny – famous Czech very eccentric sculptor, such as Pissing Fountain and Black Babies at the TV TOWER and we also drive to John Lennon wall or Vysehrad castle. Tour itinerary can be modified accordingly to clients preferences.
Trabant isn't for faint of heart so expect a wild ride through Prague in classic Soviet machine fun drivers/leading guide per each tour and it is possible that Trabant can break, so be ready to push it to help the engine start and take it as a part of the experience. These vehicles are super simple and most of us are skilled enough to fix the little problems on spot.
Get in and we take you back in time.
+420 603 481 556