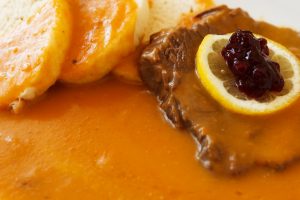 Tasting the local cuisine is the essential part of traveling. Getting know the local culture is tightly connected with trying local dishes and drinks. To gain an insight into the nation´s spirit is never complete without the understanding of local specialties and Favorite Foods In Prague. The Czech capital is one of the most visited cities in Europe and attracts more than 7 million visitors each year. Its mystic atmosphere, world-famous architecture and the rich cultural scene are complemented by the interesting local cuisine and the beer which is considered to be one of the best all around the world. These are some highlights which should not be missed during your stay in the Golden City.
"Knedlo, vepřo, zelo" – Roast pork with dumplings and sauerkraut 
If you are looking for the most typical Czech dish, this is the one. The traditional meal to be served at Sunday´s family gatherings and the true national dish. There are several versions of this meal: white or red cabbage, bread or potato dumplings. However, there is no choice for the drink. To have a beer with this meal is almost mandatory, roast porn and the beer is absolute classics, in other words, this is the Czech Republic.
 "Svíčková" – Beef And Creamy Vegetable Sauce Served With Dumplings
Another classic of the Czech cuisine. Marinated beef sirloin prepared with the vegetable sauce and bread dumplings is usually served with the whipped cream and cranberry sauce and can be found in any restaurant offering traditional Czech cuisine.
"Trdelník" – Chimney Cake
In Prague, it seems that this pastry is everywhere. It may not be of Czech origin – it comes from Transylvania – but now it is at home there. This roll of the dough flamed on an open fire until its color is beautifully golden. You can choose from different flavors like cinnamon or nuts. If you need a short break from exploring Prague´s beauties, it is time to grab something small and sweet, the chimney cake is the right choice.
"Kulajda" – Creamy Soup of Potatoes, Mushrooms, Dill and Vinegar
This soup with the origin in Czech countryside is sometimes served as a main dish, sometimes as a starter. Its strong taste is not loved by everyone but to complete your Czech culinary experience, you should definitely try this soup. After all, soups and sauces are the basis of Czech cuisine.
Schnitzel with Potato Salad
The Czech cuisine shares this dish along with Austrians and Germans. While famous Vienner schnitzel is made of veal, Typical Czech version is pork. Meat is breaded and fried in oil or, preferably, butter. It is served with potatoes or the potato salad – the mix of potatoes, carrot, onion, hard-boiled eggs, spice and mayonnaise. Few drops of lemon juice will give flavor to the schnitzel and you can enjoy another of the typical Czech meals.