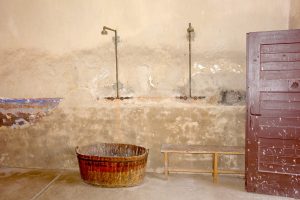 If you desire to get to know some of the other jewels of the Czech Republic which are not so far from the Prague for one day trip from Prague, you should definitely visit Karlstejn Castle and Town as well Terezin Concentration Camp. Have a look at a short description of these.
Karlstejn Castle and town
This stands for one day trip get to and from Karlstejn to Prague as Karlstejn is the closest castle from the capital of the Czech Republic. Karlstejn itself is a marvelous village surrounded by pastoral surroundings. You can get there from the Prague´s Main Train station and it lasts about 40 minutes and costs 99 CKZ. According to the signs it is really easy to get to the castle. Karlstejn Castle presents a giant Gothic castle which was erected in the middle 14th century by Holy Roman Emperor Charles IV. The castle´s purpose was to keep the Imperial and bohemian Regalia – crown jewels, holy relics, royal treasures. The town is about 30 kilometers far from Prague and belong to the most attractive castle of the state.
BOOK NOW Karlštejn Self Guided GPS tour HERE
Terezin Concentration Camp
This sad but at the same time significant memorial of World War II will take take back to the Nazi area. Theresienstadt concentration camp used to be a concentration camp which was established by the SS in WWII in city of Terezin. Tens of thousands of citizens were killed in here, some died from illnesses. Over 150,000 of them had to starve here for months or years and after this they were sent by rail transport to Treblinka or Auschwith extermination camp to be killed. Get to know the dark side of Czech history and an impact of Nazi terror to not only Jewish people.