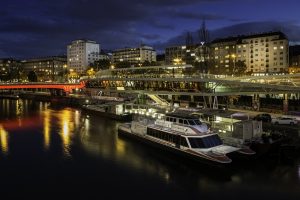 Prague and Vienna are both among the most visited cities in Europe, attracting millions of tourists and visitors each year. All of them are eager to see the Prague Castle, Charles Bridge or famous Dancing House in the Czech capital as well as Stephansdome, Schonbrunn and Hofburg in Vienna (among many other things of course). And we should not forget tasting world-famous Czech beer or Wiener schnitzel! Simply said, there are so many things to see and do in both cities that one can spend weeks there to get them really well. If you want to really understand the history of Central Europe, you need to visit both capital cities. It is not surprising that both Prague and Vienna are included in the itinerary of almost any traveler who is touring Europe. Therefore, Prague – Vienna the travel options search is more than common. And there are many. It depends on your priorities but if you prefer comfort and privacy, renting the limousine with the driver will be probably your choice. 
Hradčany to Hofburg by Bus, Train or a Car
Any traveler who wants to move from Prague to Vienna has a wide portfolio of options how to do that. Buses and trains leave Prague every hour or so to be in 300 km distant Vienna in about four hours. It is not bad and it is pretty convenient but there are people who do not want to be slaves to the timetable and prefer the more personalized way of travel. Renting a car is definitely an option but it is not an ideal one as well. It is true that you can go where you want and when you want but not everyone wants four hours of tiring driving before going sightseeing and looking after the car during the stay can be also quite annoying. So, what to do with that? Combine both ways of travel and rent a car with a professional driver! For journey starting in Prague, the Prague Driver company is the best option!
To Vienna with Prague Driver
It is hard to compare the travel experience from the regular Prague – Vienna bus line with the Prague Driver experience. With them, you are in charge! Do you want to stop here or there? No problem. Do you want to sit in a comfortable, limousine-style chair instead of narrow bus seat? You will. With Mercedes-only car fleet, your comfort will be assured. Your driver will be the true professional with good knowledge of the route and cities. Top of that, Vienna is among several places in Austria, Germany, Hungary and Czech Republic where Prague Driver can provide an experienced guide who will introduce you these places. With Prague Driver, your trip to Vienna will be more enriching and comfortable than ever before. If you want to travel with style, this is definitely what you are looking for!