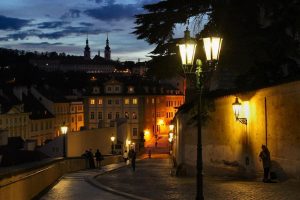 Church of St Nicholas in the Lesser Town is a perfect example of Bohemian Baroque architecture. It lies in the Lesser Town Square, at the bottom of the famous Nerudova Street, which leads right up to the Castle.
Originally, there used to be a Gothic church and the Church of St Nicholas was built on it. Work started at the beginning of 18th century and was finished in 1756, when the 79m high Bell Tower by A. Lurago was completed. Its two-level Baroque façade is decorated with the coats of arms of the Count of Kolovrat and also the Statues of the Fathers of the Church by J. B. Kohl´s followers. The dome was built by K. I. Dientzenhofer.
If you go inside the building, you will be amazed. The walls are full of ornaments and Baroque elements, the ceiling is painted with frescoes by J. B. Kracker, which show Episodes from the life of St Nicholas. If you look at the dome from inside, it´s also decorated with frescoes – you can see Apotheosis of St Nicholas and Last Judgement by F. X. Palko, who painted the chancel either. Many other authors participated in decorating the church, for example I. Platzer the Elder is responsible for the sculptures located in the central nave, the chancel and at the high altar.
Let´s go back to Nerudova Street. Everyone uses the street when he wants to get to the Castle from the center as fast as possible. The street is typical for its elegant and wealthy houses that are built especially in Baroque style. Why is that so? Because many royal and rich families used to live here in the past and made their home in a style as they were used to live before. You can find characteristic coats of arms that represented particular family, many shops signs and untypical front doors. This street used to be a part of the Royal Route.
There are two outstanding palace buildings in the street. Morzinský palace at n° 256, which is the seat of the Romanian Embassy, and Thun-Hohenštejnský palace at n° 214, which is the seat of the Italian Embassy.
The street was named after a poet, writer and journalist Jan Neruda in 1895 to honor him.