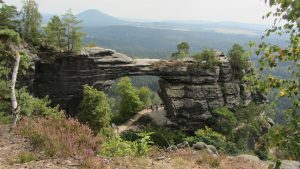 Czech Republic (former Czechoslovakia) is beautiful country in middle Europe. In past it was often overlooked, but now it´s favorite goal to reach for many foreign tourists. Unfortunately, most of tourists still only knows Prague. That´s why we come with this list of best places in Czech Republic you should not miss. Everybody will find what´s interesting for him here.
1) Prague – Well, we can´t start any other than by the amazing capital city of this country. Prague is mostly known for historical center full of buildings (the oldest from 14th – 15th century) and breath taking, monuments and views. Thanks to calmer end of World War II in Prague and entire Bohemian country you can admire this almost untouched historical center which is also on UNESCO list of World Heritage.
2) Bohemian Switzerland (České Švýcarsko) – This national park is one of the most beautiful in entire middle Europe. It comes with fantastic views and natural monuments like valleys, rivers and rocks. Some of the places in this park were used for shooting the movie Chronicles of Narnia.
3) Český Krumlov – This city in Southern Bohemia region is also on UNESCO World Heritage list thanks to wonderful historical centre with original castle from 14th century. Baroque Theater is one of the last remaining buildings of its kind on the entire world.
4) Karlstejn Castle – This castle was build, by king and emperor Charles IV., originally as a safe place for storing Czech crown jewels. Karlstejn castle was built in 14th century and remained almost intact until today. The building is full of original things and rooms with original furniture. Around the castle you may enjoy many tours.
5) Karlovy Vary – This city is best known for organizing International film festival annually. But originally this is a spa city and spa has still great tradition here. However, also the architecture is admirable. By the way, have you known that Karlovy Vary was used in Casino Royale (2OO6) James Bond movie as a backstage of Montenegro?
6) Olomouc – Why should we still stay in Bohemia? Moravia, which is part of Czech Republic, is also wonderful. City of Olomouc was founded in Romanian times and features very nice historical buildings of that era, including St. Maurice Church, which contains the largest and oldest organ in entire Europe.
7) Telč – And now let´s visit the city which is also target for tourists who goes to southern Moravian region. Telč is a small city in South Bohemian region with historical center and square which is part of UNESCO World Heritage Site list. The city was founded back in 13th century and it contains some Baroque and renaissance buildings to admire.