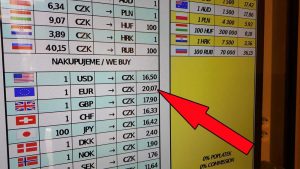 Be careful about cheating at Exchange offices in the center of Prague. There can be some exchange offices which have not very accurate information or the exchange list which can be purposely rather complicated. Sometimes there is stated at some courses that this is not the exchange list. The aim is to confuse the people who want to exchange the money in order he or she think that the exchange course will be better. The truth is that there is always the lower price – We Buy – for which the exchange offices buy the money.
Scam with first offer
The best solution the question aimed at the person at the exchange office about the rate of the course for the buying. However, there can be another danger. The staff can tell you that they buy Euro for twenty-sever but they omit the world point as on the exchange list you will definitely find 20.07 at Euro. But when they say 27 they do not tell the truth.
Never exchange money in the street
To be aware of
How to be sure about the problem? Ask about the course and which price you will get including additional fees. This number should be offered for you at the sheet of paper or on the display of a calculator. After this you can go on. In case the offer for buying Euro is not 26,50 CZK for 1 Euro, ask for better offer. The ideal price (to the first of November 2016 is 26,90 CZK for 1 Euro.
Don´t accept any fee (from 15% to 28%). Ask for No Fees price and offer for 26,70 CZK per 1€ or more! Why? Because on The Old Town Square and next tourist destinations in Prague some Exchange office providers give 15 CZK per 1€ only!
Do not exchange money in the street
Never exchange money in the street. You will get only part of your money as the person at whom you exchange the money can use a trick and hide a part of money. The other risk is that you will be giver money from different country, for example Hungarian forint (HUF). This money do not have any higher value in the Czech Republic. With every banknote check the second line (below the amount). There must be stated: Czech Crowns.
Read more about Travel Scams in Prague with www.scamsinprague.com
Thanks to Janek Rubeš for details with this Travel Scam!