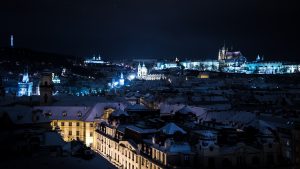 What is the Prague Winter weather in the winter season? As the Czech Republic is located in the heart of Europe, it is usually mild and lasts from mid-November to mid-March. In general, the winter time is really cold. Cloudy and icy it is usually wet with freezing temperatures.
The first snow usually comes in November
Prague Winter weather  – When to expect the dusk
The dusk is usually starts at about half past four in the morning in December and January and about an hour later in February. The first snow usually comes in November and the lowest temperatures are about five to ten degrees below zero which can be seen in January or in February. Also March is usually cold and wet and there can be a lot of snow in this part of a year.
Be prepare for chilly winter and take warm clothes with you
It is advisable to wear warm clothes and also the shoes that are appropriate to chilly and wet season of a year. The visitors of the Czech Republic ought to check the temperature and the weather forecast before visiting the Czech Republic, for example for the Christmas holidays.
Prague Winter weather  can be unpredictable
It should be said that the weather in the Czech Republic is not predictable and there can be large amount of snow and the other winter can be really mild without much snow and there can be seen trees in blossom in January. So it is always better to check the weather forecast.
The winter in the Czech Republic is really charming and the visitors can live very friendly and nice atmosphere of the Winter season as the Christmas is celebrated during the winter and people are closer and nicer.