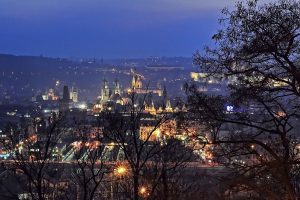 What is the Prague temperature in Winter? The capital city of the Czech Republic stays very attractive in each of the seasons of a year. As the city lies in the continental climatic aea, the winter season can be expected mild. However, the coldest months are December and January with the avarage hights of 1 to 3 Celsia degree.
Prague temperature in winter: Sparkling season of a year
When you come to Prague during the winter season you can see snowy and sparkling winter coat in which Christmas markets are covered with twinkling stars and lights.
Prague temperature in winter: The average temperature
When you come to Prague in December, the avarage temperature is about 2 Celsius degree and average low temperature is about -2 Celsius degree which is similar to southern inland Canada, Chicago or Detroit in the USA, Zurich in Switzerland. And for the average precipation in December, it is about 25 mm and les in the form of snow or light rain. When you have luck you can experience white Chistmas in the city of Prague. But it is more likely that you will encounter the snow which is melting before Christmas or it does not come until Janurary.  Winter time starts in December and stays till February. There is often snowy and temperatures can be freehing at night. Prague gets very poor level of sunshine – which is less than two hours a day.
Very famous Czech proverb for Prague temperature in winter
One Czech proverb says: St. Catherine on ice, Chrismtas on mud.  St. Catherine´s day is on November 25 so you can check this proverb quiete soon.
What is advisable to wear? There is advertised to put on gloves, a warm scarf and a hat and warm clothes as well. The other thing is to wear sturdy winter boots with a water resistant sole.