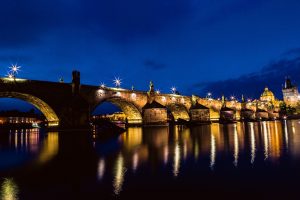 The history of this ancient city Prague covers more than one thousand years. During this time the city grew from the Vyšehrad Castle to the capital of a modern European state – the Czech Republic.
Prague became a city at the end of the 12th century
Archeological finds of jewels from the prehistoric age are similar to the style from the Great Moravian Empire.
Prague Castle
The foundation of Prague castle, as well as the building of the Christian Church of the Virgin Mary, promotion of the Castle as the seat of the Přemyslid dynasty gave the city basin settlements a new mission. The Castle became the seat of the Czech Principality which made the place very important for our republic.
Prague became a city at the end of the 12th century. The Old Town was founded in 1220 and it joined with the Lesser town at the end of the 13th century. At the beginning of the next century Hradčany – the Catle Quarter appeared.
Prague and Charles IV.
The time of prosperity started with the rule of Charles IV (1346-78) – when Prague became the greatest centre of the European empire. The king also built the stone Charles Bridge, founded Charles University and established New Town. After the death of Charles IV his son Wenceslas IV made us one of the most beautiful towns in the world. It took for another 200 years.
During the Jagielloniana era city completed its Gothic evolution. The Habsburgs brought to Prague the spirit of the Renaissance. Emperor Rudolf II made Prague the imperial seat of the Holy Roman Empire. The Habsburg victory at the Battle at White Mountain in 1620 meant that City became a provincial capital. The situation did not change even during the reign of empress Maria Theresa and her son Josef II who abolished a lot of monasteries, churches, and convents.