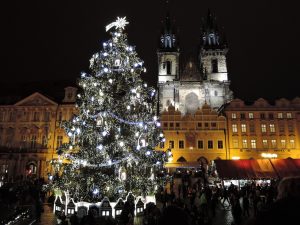 Visitors from all over the world come to Prague to see  Prague Christmas Markets to experience the marvellous souls of Christmas. There are sold unique products, such as Christmas ornaments or holiday decorations, traditional Czech Christmas cookies, tablecloths, and Frankincense or the Czech Christmas potpourri called purpura. There are also wooden toys, crafts, clothing accessories, scented candles or handmade soap.
Have a traditional refreshment
There is the refreshment for you, such as hot wine or svařák in Czech, grog, warm honey liquor called medovina which is really tasteful and make you warm. When there is dark, the markets lit up very charmingly.
The date of Prague Christmas markets
The date for every Year when you can visit famous Prague Christmas markets usually differ every year. But there can be said that from the last week of November to the first week of January you can encounter the great and beautiful atmosphere of the city. There is also good to know that there are not famous Old Town Square and Wenceslas Square markets.
Wenceslas Square Christmas market
However, they are the largest and maybe the most popular. The Old Town Square Christmas market is the most charming and busiest in the city with its little stalls which are nestled around the Jan Hus statue and being accompanied by Gothic, Renaissance or Baroque architecture. Wenceslas Square Christmas market is also in the city centre and it is situated in the lower part of Wenceslas Square.
Other charming locations of Prague Christmas markets
However, there are lots of other Christmas markets in Prague which are scattered around Prague, for example Republic Square Christmas market which can be easily reached within walking distance from the Old Town Square, Peace Square Christmas market which is usually mostly visited by the residents of the surrounding districts of Vinohrady and it is situated in front of the Church of St. Ludmila on the pleasant Náměstí Míru in Prague 2. This is usually the first Christmas market of the season.