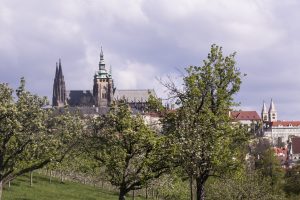 Prague castle stands for the biggest castle complex in the whole world according to the Guinness Book of Records with its area of about 70,000 square metres and at the same time this astonishing sight is number one for tourists as the number of visitors reach nearly to 2 million visitors every year. The castle dates back to the 9th century and used to be the official seat of the kings of Bohemia, Holy Roman emperors, and now this is the residence for Czech presidents. People can admire the Bohemian Crown Jewels at certain occasions as they are usually hidden in the hidden room.
Brief history of the Prague Castle
The history reaches to the 870 when the Church of the Virgin Mary started to be built. During the reign of Ottokar II of Bohemia the fortifications were improved and he also rebuilt the royal palace for the representation.  During the 14th century Charles IV had the royal palace rebuilt in Gothic style and started to build a huge St. Vitus Gothic church which was completed in six centuries. During the 15th century king Ladislaus II Jagello rebuilt the castle and huge Vladislav Hall was completed. The Habsburg king Ferdinand I had built the Belvedere to be the summer residence for his beloved wife Anne and Rudolph II founded the Spanish Hall.
Prague castle: From emperors to presidents
After the WWI the castle became the residence of the first democratic president of newly founded Czechoslovak Republic – Tomas Garrigue Masaryk during which era the New Royal Palace with gardens were renovated by Jože Plečnik and also St Vitus Cathedral was completed.  The dark period of the castle happened during the Nazi occupation of Czechoslovakia when the sight became the headquarters of Reinhard Heydrich who said to have placed the Bohemian crown on his head and he died in one year according the legend.