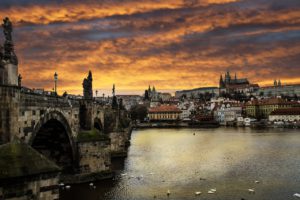 Get top places to go in Prague. When you want to get to the heart of the ancient city you can take part in the Royal Road in Prague.
Places to go in Prague – First steps
You can start at the Powder Tower (Prašná brána in Czech). You will get to the Prague's Old Town by entering it. The Powder Tower's stands for a symbolic entry to Prague. At the early 19th century the city had its own Municipal House (Obecní dům in Czech) which was built next to the tower. The route used to serve for the coronation and funeral processions of the Czech kings from the 16th to the 18th century. The road leads through Prague's original towns – New Town, Old Town, Lesser Town, Hradcany.
Places to go in Prague – Celetna Street
From the Powder Tower you can go to Celetna Street (very old street leading into Prague's Old Town). Celetna Street gathers Baroque and Romanesque, or Gothic architecture. The Old Town Square with its Old Town Hall or the Church of St. Nicholas become to the most imposing buildings of this square.
Little Square, Karlova Street
After this the road continues to the Little Square that divides a block of homes behind the Old Town Hall from a former marketplace. The Royal Road goes to Karlova Street, the Clementinum with its church the Church of St. Clement. And after that you pass the Square of the Knights of the Cross (Křižovnické náměstí) from where you can admire the Prague Castle. The next historical monument is Charles Bridge with its panoramic view of the Vltava River.
The Lesser Town Bridge Towers make the outstanding foreground with its St. Nicholas Cathedral.
Top places to go in Prague: Prague Castle
After entering Nerudova Street we can admire Hradcany and Matthias' Gate presents us the peak of the rout – the Prague Castle.