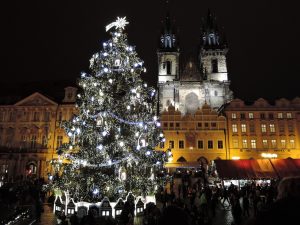 Prague is often called Europe´s most magical city and when its magic is combined with beauty and charm of Christmas time and Winter time in Prague, the atmosphere is really enchanting. Although most visitors come to Prague during summer, those who arrive in winter do not regret at all, especially if they plan the visit around Christmas and experience the most beautiful time of the year in there. So what are the activities you should not miss during winter in Prague?
Ice-Skating in the City Center
Prague is not the only city which builds skating rink during winter but those in the Czech capital are placed in city´s historical center really worth visit. The typical location of skating rink is at Ovocný Trh, just a few steps from Wenceslas Square. Another one is usually placed right under Prague´s TV tower.
Nativity Scenes with Winter Time in Prague
For most of the December, many of Prague´s churches and squares have the nativity scene on display. Some are made of wood, some are made of glass, others from more exotic materials like gingerbread. On December 25th and 26th, the live scene is staged every year in Prague Castle. All of them are very romantic and perfectly fit the Chrismas atmosphere.
Have a one-day trip to nearby ski resorts
Czech mountains are not as high as The Alps but skiing is extremely popular in the Czech Republic and there are some nice resorts not very far from Prague. Monínec is the nearest one. Also, Krkonoše, country´s highest mountains, can be reached for a one-day trip if you won´t mind some early getting up. It is not necessary to be a skiing enthusiast to enjoy some fun in the mountains.
Warm up yourself in local pubs or cafés with Winter Time in Prague
If you will get cold during your walk around the city, nothing is easier than to find some nice local pub and spent some time there. To spend some times with friends and have few beers in a pub is an integral part of Czech culture and you should try it if you really want to experience the Czech Republic. And if you are not a beer fan, there are many nice cafés in Prague as well.
Sightseeing
If you will be lucky, the city will be under snow during your visit. White roofs of Prague´s houses make wonderful scenery when viewed from Prague Castle and you should not miss it. Icy structures can also make well-known sights special and beautiful. With snow, the magical city looks even more magical. 
Prague´s Christmas Markets
The Christmas market in the famous Old Town Square is well known all around the world and it is a must when you are in Prague. But there are many more Christmas markets in the city and you will find some of them for sure during your exploration of the city. On all of them, you will find cute hand-made products from various materials and for various use. These markets will be even better with hot wine in your hands. You can be sure that they will have some!