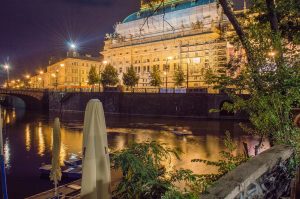 Czech capital city Prague is one of the most favorite places in middle Europe and it´s very attractive to many foreign tourists from all around the world. You may visit this city several times and it will be always a bit different and surprise you with something. Many of you probably wonder what is the best time to visit Prague to get the very best experience. Will we find the answer together? Let´s see.
What is the ideal time to visit Prague?
Well, for most of you, ideal time will be late spring or early summer, the time when the temperatures are not so high, but it´s already not so cold. This is kind a "universal" weather that will fit almost anybody. The sky is usually bright with some clouds, sometimes it rains, and this is the best weather to explore the city. So if you plan some long tours around the city, this is probably ideal time for you. The sun will not burn you out but you won´t already need any warmer clothes.
Hot summer days (and nights) in Prague
During mid and late summer temperatures in Prague reaches above 25°C and sometimes even higher. During noon and early afternoon, the temperature may easily reach 30°C. Fortunately Prague is full of places to go. Lot of tourists visit Prague inhabitants spends hot summer days near Vltava river or in one of many swimming pools around. This is also ideal time to get some nice boat trip. If you want to freeze your body with some beer, be careful – Czech beer is usually stronger than the foreign one and in combination with boiling hot weather it can easily make you feel very sick. Also be careful about other alcohol. But if you mix it with some delicious Czech meal, it will be just all right. Night tours through summer Prague are also amazing, because the nights are warm and the atmosphere is fantastic thanks to shining stars on the bright sky.
What is it in winter?
With colder weather in Prague loses nothing of its spirit. It´s just a little different, but not bad anyhow. Early autumn is ideal for long walks around the city and you can still sit outside and feel comfortable about the temperature. Prague in Christmas time is one of the most charming cities in entire Europe, with lots of Christmas markets, genuine atmosphere and so on. In last few years however, the winters are not so strong in middle Europe, so don´t expect tons of snow everywhere around.
So what´s the answer?
What is the best time to visit Prague? This is the question that we simply cannot answer, while everybody prefers it little bit different. On the other hand, this can motivate you to come back several times. You will definitely always find something new.