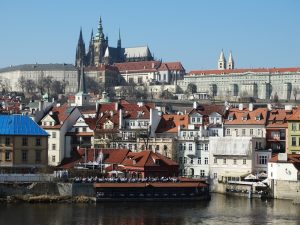 Prague Castle or Pražský hrad in Czech stands for the castle complex which is situated in Prague and dates back from the 9th century. It used to be the official residence of the kings of bohemia, Holy roman emperors and nowadays the presidents of the Czech Republic. The Bohemian Crown Jewels can be found in a hidden room in the Prague Castle.
The Prague Castle can trace each architectural style of the last millennium
The brief history of the Prague Castle
The large castle complex is according to the Guinness Book of Records the largest one in the world as it takes the area of 70,000 square metres. In 870 the construction of the first walled building arouses. It was the Church of the Virgin Mary. After this the Basilica of Saint George and the Basilica of St. Vitus came into existence in the first half of the 10th century. The first convent in bohemia was founded as well. The Romanesque palace was built in the 12th century and two centuries lasted during the reign of Charles IV the royal palace was erected in the gothic style. Also the castle fortifications were strengthened.
The recent development of Prague Castle
After WWI the Prague Castle was the seat of the president of Czechoslovakia T. G. Masaryk and the New Royal Palace and the gardens were renovated by Slovenian architect Jože Plečnik. Even St. Vitus Cathedral was finished.
Each architectural style can be traced in Prague Castle
The Prague Castle can trace each architectural style of the last millennium. So there is Gothic St. Vitus Cathedral, Romanesque Basilica of St. George, a monastery and some palaces, gardens or defence towers The tourists can admire most of the Prague Castle where are also some museums, for example the National Gallery, collection of bohemian Baroque and mannerism art etc.