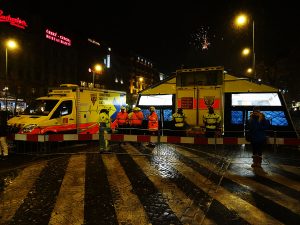 This medical module is often used during the great events, for example Christmas Eve, Marathons, floods etc. It could be also seen during the military show in Prague at the 90th anniversary of the foundation of Czechoslovakia.
Golem Prague: What does it stand for…
Golem is the special type of medical module which was made by a firm KOV Velim for Health service of the capital city of Prague. The vehicle is used by rescuers and it is available since 2006.
What to cover with Golem
As the type of the medical tool for the case of mass accident it is not a part of sanitary vehicles. This module is available to take part in during a lot of people wounded and after its unwrapping it is available to accommodate up to twelve seriously harmed people on the bed with the oxygen connection and a lot of number of not serious injured people. This is the Czech invention which is unparalleled. The module covers also staff and controller workplace, in addition engine room, social gadget for the rescuers and shower is included together with the storage room and last but not least the separate workplace.
Golem Prague Staff workplace
The staff workplace uses mainly as the room for coordination work of every single components of integration rescuing system at the place of intervation and it is located indoors under the controller workplace.
Controller workplace
Controller workplace is located in telescopis glass part on the roof of the module and serves for controlling of the operation at the place of intervention and to the sorting of wounded people and to their transport to the medical instituions. It also cover the gadgets for the team of operators. At the same time the executive has visual view about the situation at the place of intervention and thanks to the communication device he can also see the state of free places in the surrounded hospitals.