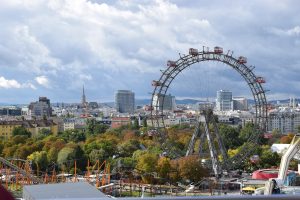 Prague and Vienna – two ancient and famous cities in which the history of Central Europe is deeply carved. Once political rivals, these two capital cities are now fighting mainly over tourists interested in beautiful architecture, rich history and lively cultural scene. However, as Prague and Vienna are just 300 km distant from each other, it is perfectly reasonable to visit both during a single trip. There are many options how to get yourself from Prague to Vienna so you can choose from a plane, trains, cars, buses… you name it. But as flying to Vienna makes little sense because of the short distance of both cities, driving in a foreign country can be confusing and stressful and bus or train lacks privacy and comfort of the personal transportation, renting a car with professional driver is becoming more and more popular.
Vienna from Prague – How to Get There?
As mentioned above, getting from Prague to the Austrian capital is not too difficult. Forget about flying, the route is meant for transferring passengers and is quite useless for point-to-point travelers, but there are many other options. Several bus companies offer Prague-Vienna service. It is cheap, frequent and it takes about four hours to get from Czech capital to Vienna´s International Bus Terminal. On the other hand, it is not very comfortable, there is never enough space on the bus and it is usually full. Renting a car can slightly reduce the time spent on the road but you will arrive tired of driving and you will have to take care of the car in Vienna. In this sense, the train is better with the similar travel time but you will lose privacy and – same as in the bus – you will have no chance to make a stop where and when you really need or want. That is why many people prefer hiring a car with the driver. For the trip from Prague to Vienna, Prague Driver with its luxurious limousines is the best choice.
More than just renting a car
With Prague Driver, you will enjoy the comfort of their Mercedes cars driven by experienced local drivers speaking Czech, German, English and Russian who know the route and both cities very well. Vienna is one of the company´s most classic destinations but they are able to take you wherever you need in Europe. Of course, you can have as many stops as you need and the itinerary is completely under your command. Top of that, the guided tour can be ordered for Vienna and several other destinations in the Czech Republic, Austria, Germany and Hungary. All of this for reasonable prices payable in CZK, EUR or with all major credit and debit cards. If you want your journey to Vienna to be maximally comfortable and enriching, choose Prague Driver – European Limousine Service.