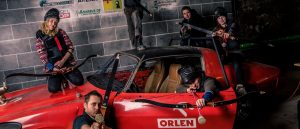 What is it about Extreme archery Prague? This is a hot new in a freetime and entertaining activities. Are you bored with classic team fights using unrealistic guns and common rules? Extreme-Archery is conceptually returned to the roots when the bow and arrow was one of the most reliable means to defend.
As a first in Czech republic, we offer an unique concept of team games and battles, with specially adapted bows from first-class Czech manufacturer. For your security, classical arrows are replaced by special series with a plastic body and a rubber or foam tip, so there are met the stringent safety requirements and there is nothing to worry about. This safety is provided by the leading German manufacturer,  which ranks among the best companies in the world dealing with LARP arrows.
For your safety, there is also a professional protective masks with thermal glass and a special wrist protectors, which are specially manufactured for the purpose of archery. For those who really want to protect themselves adequately, we have to borrow tactical vests S.W.A.T. that protects the entire upper part of your body and neck.
Where to play?
In our indoor arena in the centre of Prague. It is situated to the unique historical building of old brewery. It includes two fields, clockroom, two bars, WC, shower, chill zone and many others. There is also car parking in the area.
Wanna play?
On our facebook, there are regularly updated information, photos and videos from events, so feel free to subscribe to today. For your own game is recommended minimum 6 players and there is also needed a registration  on the phone or mail. See more in contacts. We look forward to your visit.
www.extreme-archery.cz
www.facebook.com/ExtremeArchery.cz
tel.: 00 420 777 575 580