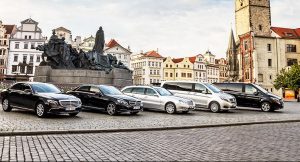 Get use the transport not only in the Czech Republic but also to Europe. Prague Driver prepared for its customers some packages of trips also out of the capital of the Czech Republic as this state has a lot of interesting places to visit. However, when the customer has his or her wish the Prague Driver can change the trop according to their needs and expectations.
Start from Prague or other city of the Czech Republic or even Europe
The Prague driver and guide in one person
The driver himself is the personal tour guide as well and for this reason he can show you around the city or the landscape. It is up to you as you can book one of the cars –  be it Mercedes Benz E for three people or less or Mercedes Benz V which is up to six persons.
Prague driver: What to look forward to…
There is marvelous Chateau of Hluboká and UNESCO historic city Český Krumlov which offers the splendid mixture of Gothic, Renaissance or Baroque elements. Are you into frozen beauty? You can enjoy the UNESCO historic city Kutná Hora, Ossuary and chateau Kačina too. Do you like Moravian wine? In this case visit Lednice-Valtice Cultural Landscape and enjoy one of the Moravian wine cellar. Do you like to have a rest? Come and visit the spa town which was founded by Charches IV. – Karlovy Vary and Mariásnké Lázně with its blossom-filled gardens and high culture. Or do you want to know more about the Czech history? Come to Judisch ghetto Terezín and memorial of village Lidice.
Combine them
There are also different types of trips which can be combined and calculated too. You do not have to start the trip only from Prague but from the other city of the Czech Republic or even Europe. There is the quotation to fill in and send.
Have a great time with PragueDriver.cz!
CONTACT INFORMATION
 +420 608 89 29 99