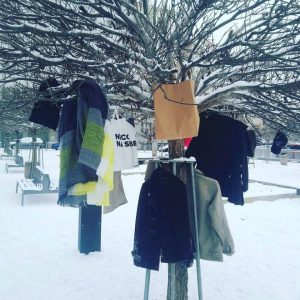 People put their clothes which they do not need to the trees in Dejvice (the part of the city of Prague). This is not only one fact of the solidarity which can Czech people show the other citizens who are in need.
A tree with the needed fruit
A great wave of solidarity with homeless people can be seen in Prague's Dejvice. At the square at horses there is a tree and people hang on it winter clothes which they do not need any more. They help the other people who are homeless to survive in these harsh winter freezing cold.
What you can find in here?
On the tree there can be seen warm boots, sweaters, sweatshirts, hats, coats etc. Just everything what is important in the winter.
Who was the founder of the project?
Blanka Fröhlich founded the project. She got to know the similar actions in abroad and she wanted to try it at home. From the beginning there were only a few things but there are more of them just now. Since Friday there were hung dozens of pieces of the clothes. There is important how practical the clothes can be and according to this fact it desappears in couple of hours.
One have to be careful and attentive
The warmest clothes are carried away at night when people cannot be seen and they do not have to be shy. However, vandals destroyed some of the things brought in here and put them into the dust bin. But Mrs. Blanka does not give up and deals with the owners of the neibourhouring restaurants who could take control of this place.