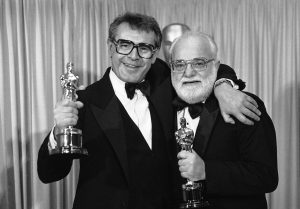 Jan Tomáš Forman who is known as Milos Forman (Miloš Forman) turns 85. He is admirable Czech film director, screenwriter, actor, or professor living in Czechoslovakia till 1968. Since the Soviet invasion he is living in the USA.
Milos Forman: The great director of the New Wave
He is the main figure of the Czechoslovak New Wave and thanks to his film The Fireman´s Ball is about ill-fated social event in a little town which was considered to be the satire of Eastern European communism so it was banned for many years in Czechoslovakia.
He is the main figure of the Czechoslovak New Wave
Milos Forman: The films to be mentioned
When he left Czechoslovakia mainly One Flew over the Cuckoo´s Nest and Amadeus made him immortal. They both were given and Academy Award for Best Director and first mentioned won all five major Academy Awards – for Best Picture, Actor in Leading role, Actress in Leading Role, Director or Screenplay. The other films to be mentioned are definitely The Silence of the Lambs. The director was nominated for a Best Director Oscar for The People vs. Larry Flynt and to his awards can be mentioned Golden Globe, Cannes, Berlinale, Cesar, or Czech lion awards.
Personal facts and interesting information about Milos Forman
He was born in Čáslav, Czechoslovakia and his parents died during the Second World War. After the war he attended the King George boarding school together with Václav Havel or Mašín brothers, he also studied screenwriting and was the assistant of Alfred Radok. Because of the Soviet invasion in September 1968 he fled to the USA. His first wife was sex-idol Jana Brejchová, however, they divorced in 1962. His second wife was an actress as well – Věra Křesadlová, however, they separated in 1968 and in 1999 he married for the last ime with Martina Zbořilová with whom he had twins.
Miloš Forman movie list
| | |
| --- | --- |
| 1954 | Stříbrný vítr (Silver wind) |
| 1955 | Nechte to na mně (Leave it to me) |
| 1958 | Štěňata (Puppies) |
| 1960 | Laterna magika II |
| 1963 | Kdyby ty muziky nebyly |
| | Konkurs (Audition) |
| 1964 | Black Peter (Černý Petr) |
| | Loves of a Blonde (Lásky jedné plavovlásky) |
| 1966 | Dobře placená procházka (A well paid walk) |
| 1967 | The Firemen's Ball (Hoří, má panenko) |
| 1971 | Taking Off |
| | I Miss Sonia Henie (Short Film) |
| 1973 | Visions of Eight |
| 1975 | One Flew Over the Cuckoo's Nest |
| 1979 | Hair |
| 1981 | Ragtime |
| 1984 | Amadeus |
| 1986 | Heartburn |
| 1989 | Valmont |
| | New Year's Day |
| 1996 | The People vs. Larry Flynt |
| 1999 | Man on the Moon |
| 2000 | Keeping the Faith |
| 2006 | Goya's Ghosts |
| 2008 | Chelsea on the Rocks |
| 2009 | Peklo s princeznou (Hell with a Princess) |
| 2011 | The Beloved (Les Bien-aimés) |