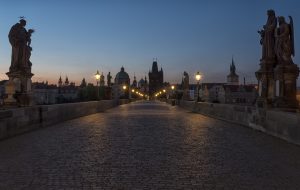 Even though the capital of the Czech Republic is widely known as the city of hundred spires and the seat of many famous emperors, there are some interesting and stunning facts about Prague which the visitors have never heard about. There are at least ten of them.
1) The largest castle complex of all the world – The Prague Castle comes from the 9th century and stretches on awesome 18 acres of land. It is the home of epic cathedrals, chapels, ornamental gardens, or royal palaces and last but not least the seat of the Czech president – Miloš Zeman.
2) John Lennon Wall Prague – The wall is devoted to one of the Beatles members – John Lennon. It used to be the symbol of liberty and freedom and thus it was repainted for many times.
3) Charles Bridge and the Vltava River – The emperor Charles IV put the first stone at precisely 5.31 am on 9th July 1357. As the Czech king believed into astrology and numerology he preferred the date as its written form is: 1-3-5-7-9-7-5-3-1. And the Vltava River is the longest river in the Czech Republic. In 2017 we celebrate 660 years of Charles Bridge
4) Hitler´s plan – Hitler wanted to save Jewish Quarter and form this area as a museum of the extinguished race.
5) Astronomical Clock Prague – When you visit Seoul in Southeast Asia you will discover the same replica within Hongdae district.
6) Dancing house – The famous Dancing house has been inspired by two famous dancers: Fred Astaire and Ginger Rogers so the building seems like dancing. The piece of art was designed by Frank Gehry and Vlado Milunić. The other type of interpretation is that two parts symbolize yin and yang.
7) Beer drinkers – There is no surprise that local people drink more beer for person than people of the other nations of all the world. And to be precise – Prague person drinks about 155 liters of this delicious beverage per year.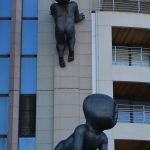 8) Crawling babies – David Cerny is a controversial designer of of this tatue which can be seen on the Zizkov Tower. This statue evokes weird scene to all the visitors of this part of the city.
9) Charles Square – Famous Charles Square used to be the most spacious town square of the whole medieval Europe, in addition the square stays one of the most spacious ones of the entire world. In the medieval time the Charles Square (which bears the name of Holy Roman Emperor Charles IV) it used to be named Cattle Market according to the purpose of the square. There is evident that Charles Square sounds more elegant.
10) Petřín Lookout tower – One can have a stunning view of Prague by climbing the 299 stairs of the Petřín Lookout Tower – Prague Eiffel Tower.