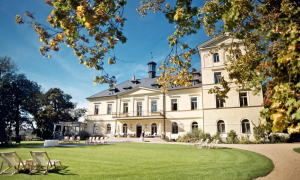 Chateau Mcely is the former rural manor of the Thurn-Taxis aristocracy. This is a place of magical wonder with positive healing energy, a long history and calm and deep relaxation of the body, mind and spirit in harmony with the surrounding nature. Chateau Mcely is situated in the midst of the magical St. George Forest, high atop a hill with breath-taking vistas, less than an hour's drive from the centre of Prague in the heart of old Central Bohemia (55 km) in the direction of Mlada Boleslav.
Chateau Mcely is situated in the midst of the magical St. George Forest
The castle is a favourite getaway for deep spa relaxation, romantic stays in the midst of nature, unforgettable family celebrations, weddings, conferences, corporate events, or simply lunch, dinner, picnic, or afternoon tea in old aristocratic tradition. We have 23 individual rooms and suites, each with its own style and name, elegant castle halls, our gourmet restaurant Piano Nobile with a covered out-door patio, 17th century Alchymist Club, exclusive Mcely Spa or our "little library" Studiolo on the top floor of the tower and a rooftop astronomical observatory.
All of the aforementioned is topped off by our natural Mcely Spa with three spacious, creatively-designed, private therapeutic suites named Honey, Silk and Pearls. Our guests also can use the herbal steam bath, the outdoor Jacuzzi in the English park, the small sauna building, the natural swimming lake, the multifunctional sports ground and a specially-designed natural course for cardiovascular and muscular fitness, children's playground with Princess Julinka's Cottage, and other small surprises.
The original treatments inspired by local tradition will allow you to experience the beneficial effects of organic Mcely Bouquet cosmetics, made from old recipes right in the chateau's laboratory. This pure natural and organic range of Mcely Bouquet cosmetics was developed by Chateau Mcely's owner, Inéz Cusumano, with the intention of sharing the local alchemical and herbal heritage and natural healing energy.
You can find more information about the Mcely Bouquet collection of nine unique products at www.McelyBouquet.com.
Chateau Mcely*****
Mcely 61, 289 36 Mcely