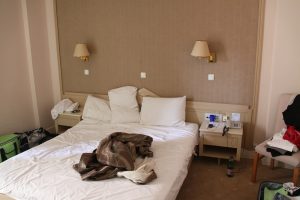 When you want to get to know the capital of the Czech Republic you should go there for a longer time. If this is your case you will need the accommodation which will suit your needs. One can choose among the hotels, suites, hostels or accommodation in private.
Best places to stay in Prague with different types of accommodation
Best place to stay in Prague: Luxurious Hotels
There are many guides which enables and offer some of them, however, bear in mind that each of types of the accommodation has its pros and cons. When your look for the comfort and luxury and you do not deal the problem with money you can book some of the Prague´s luxurious hotels or suites, such as Corinthia Hotel Prague, Hotel Elysee, Three crowns Hotel Prague, Four Seasons Hotel Prague, Mandarin Oriental, InterContinental, Augustine, Hilton Prague in Old Town, Alcyhmist Grand Hotel and Spa, Boscolo Prague, Buddha-Bar Hotel Prague, the Emblem Hotel, Hotel Kings court, Art Deco Imperial Hotel, Le Palais Art Hotel, Hotel Paris Prague.
FIND BEST PLACES TO STAY IN PRAGUE NOW
Best places to stay in Prague: Hostel
In case you are a student and you prefer spending your money into the exploring the city and its historical jewels, you can book some of the comfortable hostels which are cheap and can be found in all parts of Prague. When you prefer privacy and you are likely to be away from the crowds of tourist, the private accommodation is just for you.
Next best places to stay in Prague
There is Savic Hotel where you can enjoy the glass of wine in the comfortable king-size beds. The Icon Hotel and Lounge is only two minutes' walk from the Prague´s Wenceslas Street. Czech Inn is a hostel but the boutique label wouldn´t be out of this place. Le Palais Art Hotel Prague was renovated in 2014 and stays for the five-star boutique hotel in Vinohrady and Vršovice area.
Best places to stay in Prague searchbox