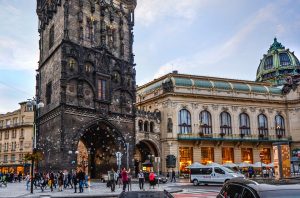 When you have only 48 hours in the beautiful city of Prague, capital of the Czech Republic, you can follow this itinerary in order to be sure that you will not miss any interesting sight of this city.
Being in Prague for two days: 1st day
How to get there – Airport of Václav Havel stands for a little but efficient airport in Prague from which you get to the city using the AE airport shuttle which comes each 30 minutes or use any offer for Airport Transferwith bus, car or Ferrari test drive Prague
Accommodation and lunch – You can accommodate at the Prague Square Hostel which is clean and there is quiet atmosphere. You can look after free breakfast in here. Have a delicious lunch at Konvikt which is a local pub with great pork belly and the fried cheese.
Sandeman's Prague tour – Sandeman´s Prague tour enables tours via marvelous Europe cities which are for free. The tour itself covers the Old Town Square, the Astronomical Clock, and Charles Bridge as well.
Getting use the night: Prague nightlife – it is Prague Pub Crawl. Even though the tickets are not very cheap you can get to a lot of clubs or bars and have a delicious drink in here.
Prague for two days: 2nd day
Jewish Quarter and the Prague Castle – It is highly recommended that you should see the Old-New Synagogue, the Jewish cemetery, or the Pinkas Synagugue with drawing from the Terezin Ghetto. The symbol of the Czech Republic – this is the Prague Castle with famous St. Vitus Cathedral and cozy Golden Lane.
Enjoy your meal – Taste a glass of beer in a beer garden for example for the fact that beer is less expensive than water.
John Lennon Wall and Dancing Building – John Lennon Wall Prague is painted by graffiti remembering the personality of the Beatles member – John Lennon and Symbol of Freedom in communism in Czechoslovakia. After than you can walk down to the Kampa Park. The next interesting building is definitely Dancing House which is named after fantastic dancers Fred and Ginger. The building seems to be in the movement and even though this is modern architecture, it fits perfectly in this place.
Dinner in Prague – After getting to know the capital of the Czech Republic, you should have a rest at Agave, wonderful Mexican restaurant which is located close to the Old Town Square. You can refresh yourself having typical Mexican food or a glass of cocktail.
Nightlife is so attractive – If you feel fresh as a daisy it is the highest time to take part in nightlife. The best choice is Vinárna U Sudu which is the name of underground bar or better said – the huge cave with a lot of tunnels for you to see. All is Prague – culture, delicious beer and meal and also nightlife.