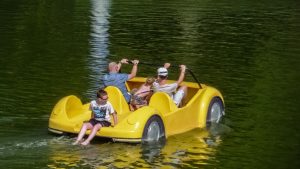 One of the most popular summer activities in the Czech Republic is pedal boats under National Theatre Prague and canoeing. It is great opportunity to spend some time with friends or family in the beautiful nature and to have a nice time. And believe us, historical city centers look great from the water level as well. But the Czech Republic is also known for its world-famous beer. Unfortunately, controlling the canoe and drinking beer are not compatible hobbies, especially in the eyes of the police. And while this was more or less tolerated in the past, the situation is rapidly changing. Of course, the zero-tolerance for alcohol on the rivers and other bodies of water applies for Prague and its popular water attractions as well…
Alcohol-Free Vltava River
As mentioned before, the Czech beer is well known all around the world and enjoying your half-litre with the great view on the beautiful panorama of monumental Prague Castle from the pedal boat or another small vessel can be viewed as the best idea, but in accordance with its no-alcohol policy, Czech police can have a problem with it. In advance, they announced that the patrols consisting of police officers and members of the shipping administration will focus on the alcohol usage by both locals and tourists using small boats, swimmers and other users of waterways.
The alcohol is not the only subject of control: the designation of vessels, docks and other facilities will be also in the police´s viewfinder. It seems that the law is coming to the Vltava river uncompromisingly. In July and August, the police will be on high alert and ready to impose a fine, 24 hours a day.
Last Year´s Experience
Despite all the proclaimed activity, the situation on the river is probably not that bad. During the last summer, Prague City Police ordered 51 small boats out of the forbidden areas or routes of bigger ships, 20 times there was a problem with boats which were not properly lightened up, in eight cases, police had to assist with towing-away motionless vessels and the river patrols dealt with less than five alcohol-connected cases. Not that bad for thousands of people who hired a pedal boat or another small vessel in Prague.
However, this statistics should be understood as a proof of discipline of Prague´s citizens and tourists rather than inconsistency of the police. Therefore, it would not be wise to test its alertness. After all, you do not need an alcohol to appreciate the beauty of Prague. But if you want to have your chilled beer with a view offered by the Vltava river only, you have plenty of opportunities. Pick-up one of many pleasure cruises and you can enjoy magnificent views on one of the most famous city skylines of Europe with the beer mug in your hand and without any concerns.