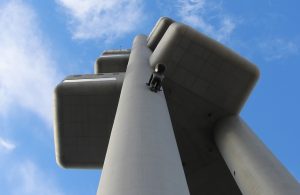 Žižkov Tower
This great building enables its visitors a magnificent 360° prospect accompanied by capsules, restaurant with bistro or bar and six-suite. The Tower Park Prague shows a garden restaurant with the summer terrace. There is also a professional minigolf court in the compound of Mahlerovy sady which was in use since June 2014.
The greatest ones
This building stands for the highest building in the whole Czech Republic and also for the highest observatory in the Czech Republic. Its total height is 216 meters and its capacity is 300 people. There are also two lifts for the public and one service lift too. There are amazing 736 steps.
Its history and some technical information
The TV Tower in Žižkov was erected from 1985 to 1992 thanks to the design of Ing. Arch. Václav Aulický and Dr. Ing. Kozák. However, the local people were not satisfied with the building because of the contrast of high-tech architecture and its historic neighborhood of Zizkov. It should be mentioned that in these days it is the dominant of the city of Prague and its panorama.
Refurbishment of its interior and the brand new name
During the years 2011 and 2012 the tower was under a complete refurbishment of its interior and thanks to the experience team of Czech architects and artists there was added also the new space and interactive environment too. In addition, the TV Tower bore the new name – the Tower Park Praha.
Technical point of view
This television transmitter tower stands for the great technical development as the Tower oscillation were eliminated by pendulums inside it consisting of three cylindrical steel tubes with nine cabins.
Crawling babies
Another dominant was added in here in 2000 – sculptures named Babies by the Czech artist David Černý who is world-famous for its controversial (there is for example another controversial work – Entropa which could be seen on the building of the EU Council headquarters in 2009).