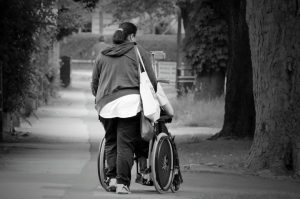 The historic centre of Prague – People with restricted mobility can visit the historic centre of the capital of the Czech Republic, Prague, as it is quite well accessible for them.
Prague Heritage Reservation for dislable people
However, getting around can be quite difficult for example due to the steep slopes. For this reason we recommend the comprehensive booklet which helps these visitors to get around. It focuses on those parts of Prague that are listed in UNESCO' world heritage site: "Prague Heritage Reservation. Accessibility Atlas for People with Impaired Mobility – City Map 1:4000".
What the booklet contains
The booklet was published in Czech and English and contains thorough maps with pictograms indication monuments and streets which are accessible for people with restricted mobility or that are reserved for handicapped parking places, accessible subway stations, well equipped public restrooms, as well as major obstacles, such as steep slopes, staircases and so on.
Where is the guide for disable people available?
The guide can be available at the office of the Wheelchair Users Prague Organization in Benediktska street 6, at the City of Prague information centre in Marianske Namesti or at the Prague Information Service centre on Old Town Square.
Public transport
In the city centre, there are only four stations that are accessible for people with restricted mobility. There are: Muzeum, Florenc, Hlavni Nadrazi, Vltavska. Not all, but only some trams and buses are equipped with adaptable platforms and at certain time (usually on line one and three) there are some trams with the special equipment.
In case you need more information about the public transport or accessible lines, you can visit the webpage of the Prague Public Transport company: http://www.dpp.cz/en/barrier-free-travel/
Are you a traveller with special needs thinking of coming to Prague? Are you worried Prague may be unfriendly towards people with disabilities?
Then you have contact to www.accessibleprague.com or visit Facebook fanpage HERE